Hands-on training is known to be the most effective way to train employees on topics such as confined space entry, hazardous waste, fire prevention, fall arrest training, emergency response, scaffolding and ladders, and lockout/tagout. However, it can be costly and time-consuming to take your entire workforce off-the job and on-site to a training location to run scenario-based training.
VR training, however, brings the live scenario to you. With VR you don't have to compromise the effectiveness of hands-on training, and can achieve similar results right in your classroom.
[hypeanimations_anim id="1″]
VR training from Evolved Safety Training can be conducted independently or with an instructor present, enabling remote training, team collaboration, or even competition. This groundbreaking VR training provides first-to-market Multi-User Functionality allowing up to dozens of trainees to learn, practice, and interact at the same time, in the same environment — from any end-point in the world.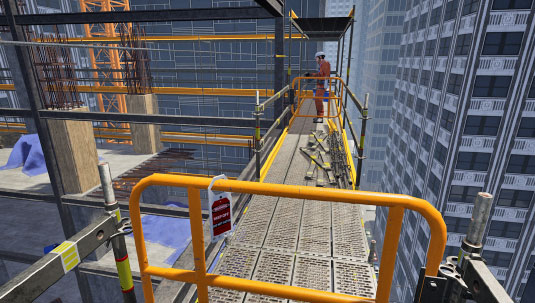 Fall
Protection
Fall Protection challenges trainees to inspect and choose their Personal Protective Equipment (PPE), including fall arrest harnesses and lanyards, before traveling 40 stories skyward to an elevated construction site. Once there, they'll be asked to complete a simple task. But unless they observe essential protocols, they'll learn nothing is "simple" when working at heights.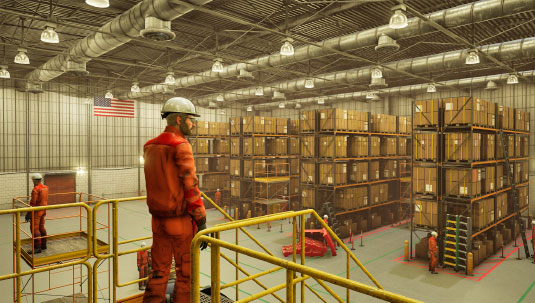 Hazard
Recognition
Hazard Recognition challenges trainees working in general industry to demonstrate their knowledge of critical workplace safety standards by first recognizing, then identifying and recommending the proper corrective actions for literally millions of randomized hazards. With scoring in real-time, gain unprecedented visibility into what employees know — and what needs work.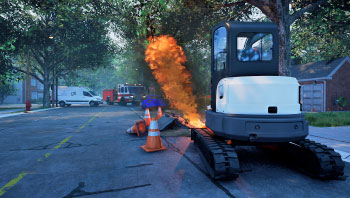 Natural Gas Leak
Emergency Response
Natural Gas Leak Emergency Response challenges trainees working in natural gas distribution to explore a fully immersive and interactive 3D neighborhood to locate, identify, and properly respond to a natural gas leak. Protect life and property in a real-time environment in the most advanced and engaging VR Training ever created for the natural gas industry.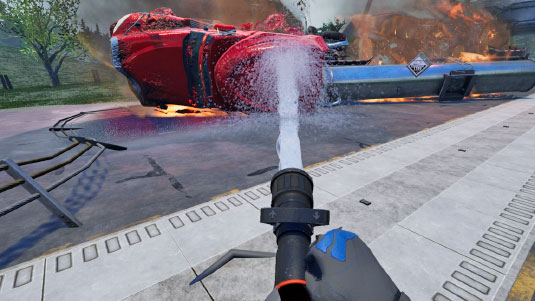 First Responder
Operations (HazMat)
First Responder Operations (HazMat) provides real-world emergency response experience without real-world costs and risk. Fully immersive & interactive with multiple training roles, learning objectives, and randomized scenarios, this simulation challenges an entire engine company to make tactical decisions and practice cognitive problem-solving in real-time.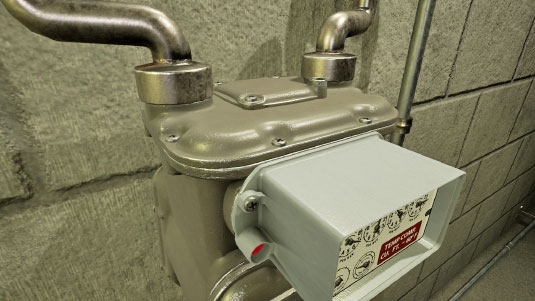 Inside Meter
Inspection
Inside Meter Inspection challenges trainees in natural gas distribution to explore a photorealistic 3D basement to locate, identify, and properly inspect a gas meter. But that's not all — they'll have to conduct their inspection from among millions of combinations of meter configurations and possible defects, exposing them to a career's worth of job experience in just days or even hours.
Access to the most advanced and engaging VR Training content available today.
A first-to-market feature set and in-depth, real-time reporting metrics.
 Turn-key deployment on the VR hardware distribution system of your choice.
Get Started with VR Training
[hypeanimations_anim id="2″]
Talk to Evolved Safety about how to implement VR training into your current or 2020 training plan.