Virtual Reality Training »
Pixo Virtual Reality (VR) creates cutting-edge Virtual Reality Training that helps companies solve workforce training challenges better, faster, and for less. We work with customers in a variety of high-impact industries, such as construction, manufacturing, and energy production & distribution.  We offer first-to-market features such as Multi-User Functionality, Scenario Randomization, and Real-Time Reporting & Analytics.
Applications
VR Training has almost limitless potential applications. Our experiences can serve as instruction, practice, and assessment aides for any number of operational procedures and hazard detection training purposes, including:
• OSHA 1910 & 1926
• Hot Work
• Scaffold & Ladders
• Fall Arrest Systems & Heights Training
• Personal Protective Equipment
• Electrical
• Power Tools
• Trenchwork
• Manlifts & Aerial Platforms
• Lockout/Tagout
• Emergency Response
• Gas Line Maintenance Ergonomics
• Vehicle Operations
• Hazardous Material
• Handling & Cleanup
• Hazard Communication
• Silica
• Job Safety Analysis
• Exposed/Unprotected Edge
• Tie-off Training
Multi-User
 

Functionality

Our first-to-market Multi-User Functionality allows up to dozens of trainees to learn, practice, and interact at the same time, in the same environment — from any end-point in the world.  Training can be conducted independently or with an instructor present, enabling remote training, team collaboration, or even competition.  Overcome logistical challenges and wasted man-hours with VR Training that builds teams and breaks barriers.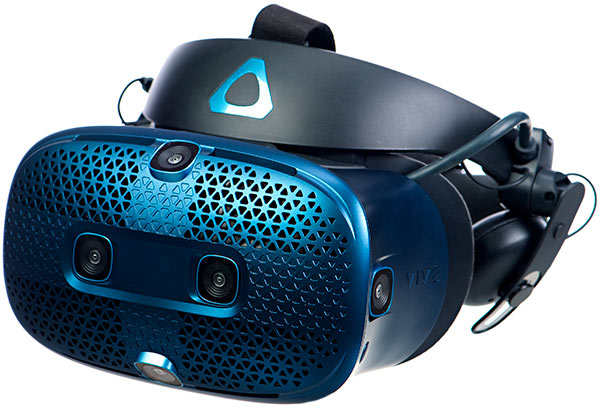 Scenario Randomization
Close the experience and skills gap with innovative VR Training that can be both repeated and randomized. Our state-of-the-art Randomization Engine gets new hires up-to-speed faster than with traditional training methods by exposing them to literally millions of different real-life workplace situations and scenarios. Improve decision-making and provide an entire career's worth of highly relevant job experience in just days or even hours.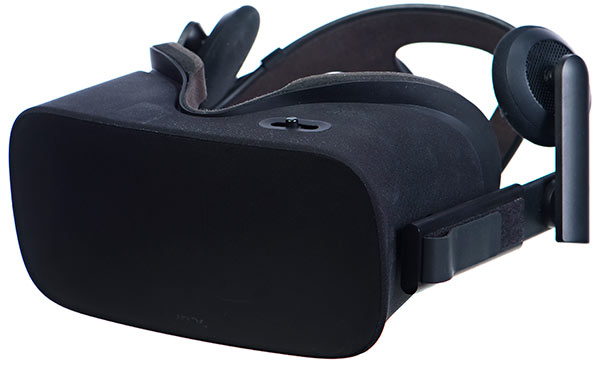 Real-Time Reporting and Analytics
Achieve unprecedented visibility into what trainees know and what they need to work on using our Real-Time Reporting & Analytics. Build, view, and analyze user training profiles at either the individual or team level with our robust back end data collection. VR Training delivers real value on Day One — but even greater value on Day One Thousand, as aggregate data reveals both micro- and macro- level trends and can be leveraged to optimize how your business works and learns.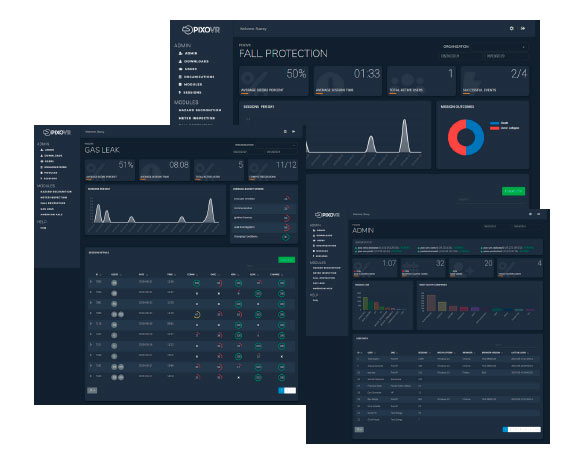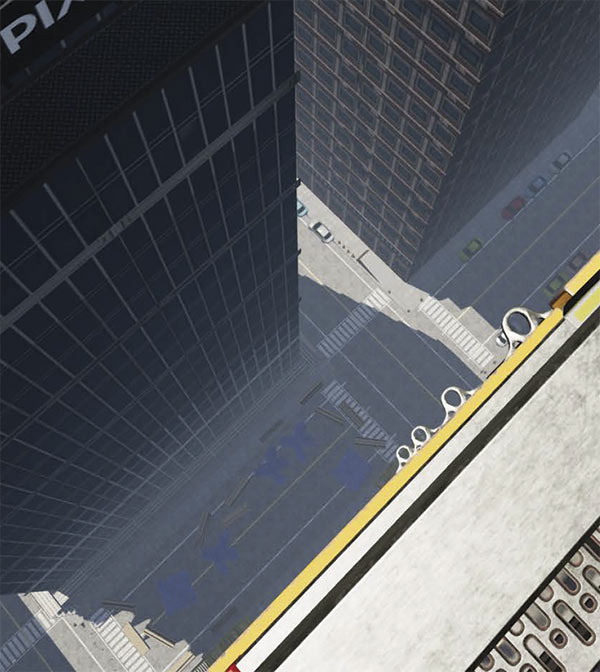 VR Fall Protection
VR Fall Protection takes fall hazard training out of theory and brings it into vivid practice with three critical, hands-on, challenges for trainees:
• Multi-point fall arrest system inspection
Inspect and choose from various fall arrest safety harnesses and lanyards with randomized defects. Don't just assume your gear is sound — take precautions and know it is.
• Tools and harness tie-off training
Tie-off your life line to the correct anchor locations, safely secure your tools, and complete your task — but remember, mistakes at 400 feet can have serious impact. Literally.
• Fall Protection practical assessment
Based on your decisions, experience first-hand the potentially deadly results of serious mistakes or dangerous oversights with pulse-pounding simulated consequences.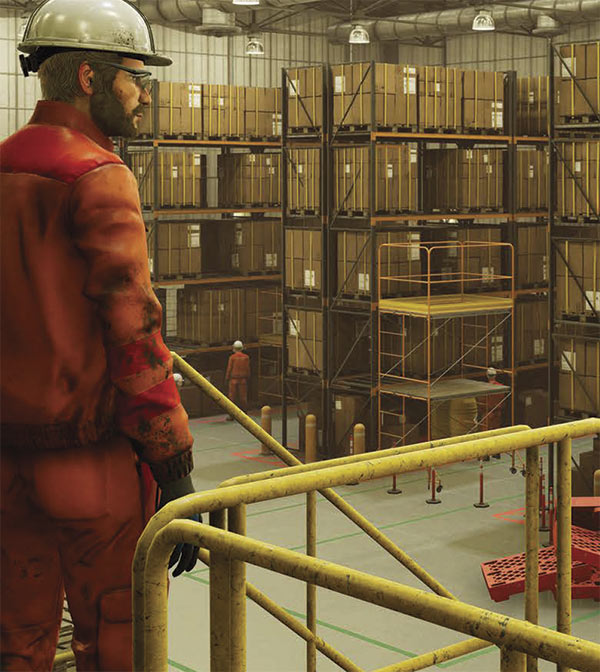 VR Hazard Recognition
VR Hazard Protection takes fall hazard training out of theory and brings it into vivid practice with three critical, hands-on, challenges for trainees:
• Properly don Personal Protective Equipment (PPE)
Whether you're in our Warehouse or Chemical Storage environment, Job #1 is to gear up with the appropriate PPE — and ensure co-workers are doing the same.
• Identify and correct potential hazards
After properly donning your PPE, find and recommend corrective actions for potentially millions of randomized hazards, from improperly stored HazMat to defective scaffolding.
• Review real-time performance in Scoring Mode
In Scoring Mode, you'll be graded on your ability to correctly isolate and fix hazards from a variety of possible options, with scoring that reflects correct, partially correct, and incorrect responses.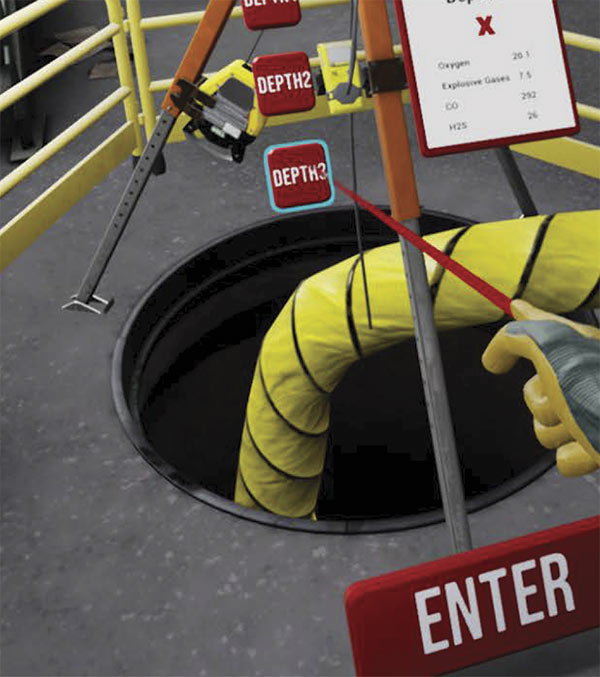 VR Confined Spaces
VECTRE's Confined Spaces challenges trainees to demonstrate their knowledge of confined space entry protocols and achieve four core objectives.
• Identify different types of confined spaces
Determine if a permit is required for entry or not, and label each space accordingly.
• Personal Protective Equipment use and communication
Properly don the correct PPE and maintain appropriate lines of communication.
• Hazard identification and gas detection
Remove visible hazards, place barriers around the workzone, and test air quality levels.
­• Confined space practical assessment
Demonstrate your knowledge of confined space safety in real-time with simulated consequences.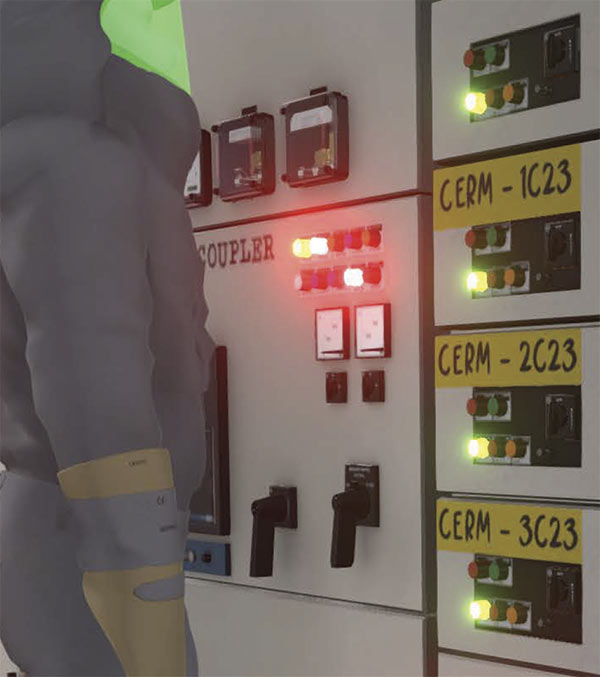 VR Electrical Safety
Buzzark's Electrical Safety challenges trainees to prove their knowledge of safety procedures to achieve four core objectives.
• Isolation of panels and Lockout/Tagout procedure
Learn and practice critical safety protocols for isolation of panels and proper LOTO procedures.
• Rack Out procedure training
Disconnect a circuit so it can't conduct electric power where work is being performed.
• Practice with simulated real-world tools
Learn and train on the use of safety tools such as an audio/visual non-contact voltage detector and discharge stick.
• Arc Flash safety protocols and response
Challenge trainees on their knowledge of what to do in the event of a dangerous arc flash.
VR Inside Gas Meter Inspection
VR Inside Gas Meter Inspection challenges trainees to perform a thorough inspection in a residential basement, grading them on their ability to complete three critical tasks.
• Locate gas meter(s) and verify work orders
After arriving at the scene, trainees' first job is to locate the gas meter itself. Upon finding it, they must then check the meter's registration number against their work order.
• Use simulated tools to inspect for leaks and damage
Use functioning, simulated real-world tools to inspect gas meters for possible leaks, signs of metal corrosion, damage to components, or evidence of tampering.
• Check results with real-time scoring
Real-time reporting gives trainees the benefit of actionable, immediate feedback and provides training managers insight into trainee capabilities.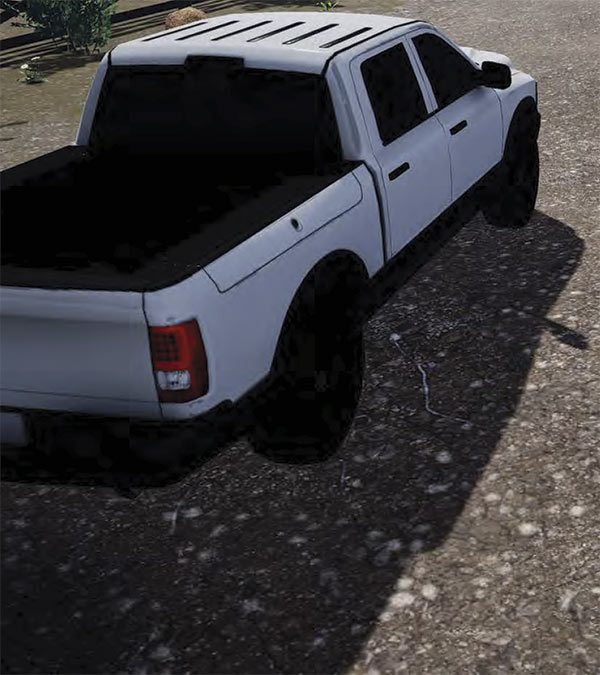 VR Pipeline Patrolling
VR Appliance Inspection challenges trainees to conduct complex, multi-step safety inspections and grades them on their ability to complete five core objectives.
• Conduct a line patrol according to procedure
Understand and complete inspection requirements for both above- and below-ground lines. Replace outdated or broken markers and signage.
• Identify and correct any AOCs found
Accurately identify and take the appropriate corrective actions in the case of Abnormal Operating Conditions, (AOCs).
• Report to dispatch and document findings
Ensure all aspects of the patrol and inspection process are documented — from any AOCs found, to the steps taken, to the scenarios final resolution.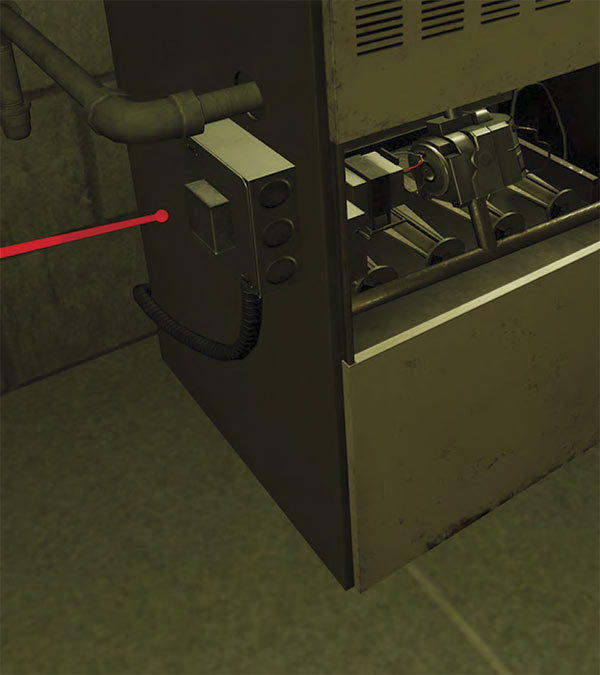 VR Appliance Inspection
VR Appliance Inspection challenges trainees to conduct complex, multi-step safety inspections and grades them on their ability to complete five core objectives.
• Inspect for possible defects
Inspect appliances for defects like improper venting, faulty connections, or possible obstructions.
• Tag-out appliances or issue warnings
Based on defects found, choose whether to tag-out appliances or issue warnings to residents.
• If safe, light pilot
If warranted, light the appliance pilot. Blue flames are safe — yellow flames will need a tag-out.
• Check for safe appliance operation
If pilots burn blue, run the appliance to ensure it's in safe working order for use by residents.
• Report your findings to dispatch
Upon completion, report your status to dispatch and receive detailed scoring in real-time.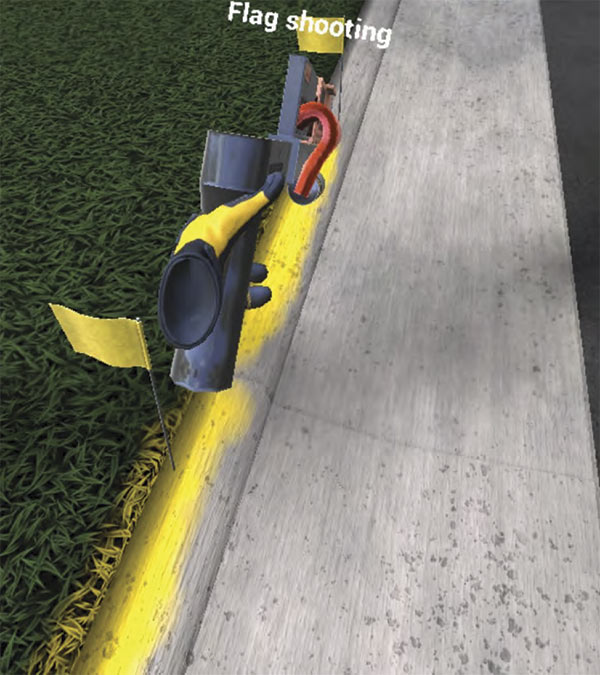 VR Facility Locating and Marking
VR Facility Locating and Marking challenges trainees to accurately perform a pipeline safety inspection and be graded on three core objectives.
• Locate underground gas pipeline
Use real-life training methods and techniques to search for and locate underground pipelines in a virtual residential setting.
• Accurately mark pipeline location
Use the simulated tools provided to accurately mark and tag the location of the natural gas pipeline you've been tasked with inspecting.
• Inspect for potential hazards
Use critical thinking, observational skills, and simulated tools to properly identify and recommend corrective action to address Abnormal Operating Conditions (AOCs).
• Document the process and report findings
Ensure each step of your Facility Locating and Marking inspection process is properly documented, from initial findings to ultimate resolution.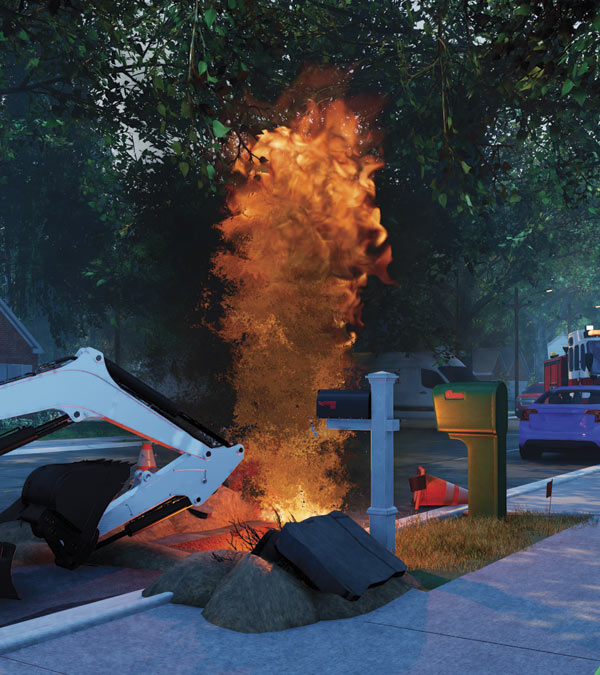 VR Emergency Response (Natural Gas Leak)
VR Natural Gas Leak Emergency Response tests trainees on their ability to perform five critically important permissions in order to protect life and property.
• Perform a leak investigation
Locate, classify, and document the nature, position, and severity of the gas leak emergency.
• Identify and eliminate ignition sources
Identify all potential ignition sources that could turn a simple leak into a deadly explosion.
• Evacuate, ventilate, and secure the area
Follow protocols to properly evacuate, air-out, and lock-down the area surrounding the leak.
• Communicate and coordinate with customers and agencies
Work with dispatch, the fire department, and residents to get the situation under control.
• Monitor changing conditions on the ground
Actively monitor changing gas levels, environmental conditions, and other complicating factors.