The CDC estimates that so far this season there have been at least 15 million flu illnesses, 140,000 hospitalizations and 8,200 deaths from flu. Flu causes U.S. employees to miss approximately 17 million workdays due to flu, at an estimated $7 billion a year in sick days and lost productivity (NIOSH). Seasonal influenza activity in the United States has been elevated for 11 weeks, and although flu season typically peaks in February, the flu can continue to affect people into May.
Now enter the 2019-nCoV novel coronavirus. According to the CDC, Coronaviruses are a large family of viruses that are common in many different species of animals, including camels, cattle, cats, and bats. When the virus mutates it can infect humans. Most people recover within a few days, however, those with a weak immune system and young children or elderly people may develop a more serious infection such as bronchitis or pneumonia. Symptoms include fever, shortness of breath, and a cough.*
Here are four easy steps you can take to prevent the spread of the cold, flu and other illness in your workplace:
Get a flu vaccine, and urge employees to do the same – or consider having a flu vaccine clinic at your workplace. It's not too late to get vaccinated, especially if you've not yet been sick. The flu vaccine can help prevent the flu or lessen symptoms and severity if you do contract the virus.
Encourage workers who are sick to stay home. If you don't already, think about adopting a policy that allows for sick employees to stay home without repercussion – even a couple of people out sick is better than shutting down your entire workplace. The CDC recommends those with flu-like symptoms to stay home for at least 24-hours after the fever is gone. Limiting contact with those who are sick is one of the best ways to prevent the spread of illness.
Keep a clean and sanitized work environment. Wipe down workspaces and common areas, including desks, machines, and other shared surfaces.
Provide tissues, hand sanitizer, and antibacterial soap and promote personal hygiene.
Education is the first line of defense against the spread of the cold and flu. Be proactive with these training programs from Evolved Safety:
Influenza Pandemic Planning for Businesses
Influenza Prevention
Influenza Symptoms and Prevention Strategies in the Workplace
Personal Hygiene In The Workplace
Call us at 616.916.1178 to get started.
*The situation with the 2019-n-CoV novel coronavirus is rapidly evolving. Please refer to the CDC for the most up-to-date and accurate information about the virus.
Situation Summary from the CDC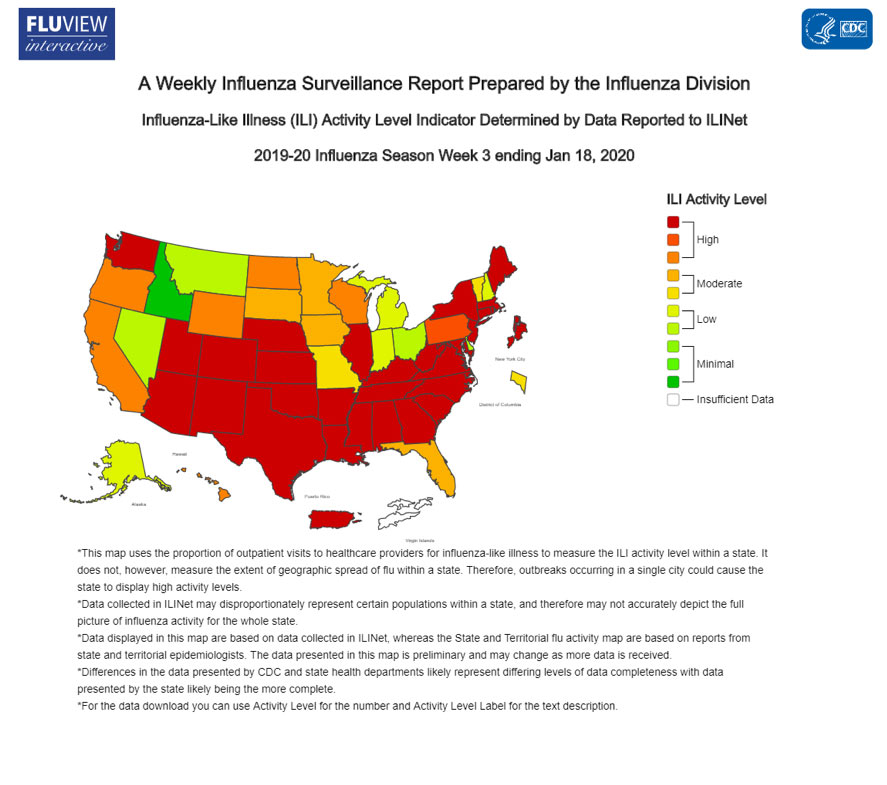 Sources:
Harvard Medical Publishing, The New Coronavirus – What We Do and Don't Know, Accessed 1/31/2020
CDC Flu Activity & Surveillance, Accessed 1/21/2020