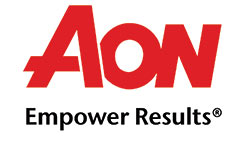 Grand Rapids, MI and Chicago, IL – June 21, 2018 – Aon Global Risk Consulting has selected Evolved Safety as their strategic partner to provide online Environmental Health &Safety (EH&S) training services for Aon clients. Aon's Casualty Risk Consulting practice provides comprehensive prevention and loss mitigation solutions  for clients  through expertise in safety and prevention programs, ergonomics, transportation, product risk, compliance, claim mitigation and risk control, all supporting the reduction of the organizations' total cost of risk. Effective EH&S training is a key component of the Aon Client Promise Methodology for risk control.
Aon values Evolved Safety's unique approach to EH&S services. Evolved Safety provides a single point of contact for dedicated and knowledgeable customer service for Aon eLearning clients throughout the duration of the engagement.
"Many of Aon's clients have expressed a desire to incorporate online learning into their safety program to complement the services provided by our firm.  After careful consideration, we are very excited to be partnering with Evolved Safety.  This alliance allows our Casualty practice to bring efficient online training to meet this need at a highly attractive price point." Notes Deborah Weigand, Managing Director of Aon's US Casualty Risk Control practice.
"It is a great day for Aon's clients and our consulting practices. Our clients had asked us to bring an online training solution to them that provides a wide range of topics that would help them train and educate their employees, and comply with state and federal regulations at a price point that is reasonable.  My colleague, Stephen Bennett, and I feel we found the best partner in Evolved Safety to meet all of those requirements," said Scott Lassila, Managing Consultant and Construction Thought Leader for Aon's Casualty Consulting Practice.  "Aon clients will now have access to SafetySkills online training programs and learning management system through Evolved Safety."
"Aon is an industry leader and they recognize the importance of EH&S training as part of a successful risk management program. We look forward to working with Aon customers to help them reduce their risk and keep their people safe on the job," comments Greg Adams, Evolved Safety's Principal.
Aon customers can learn more about this eLearning solution by contacting their Aon Casualty Risk Control or Claim Consultant
Aon Global Risk Consulting (Aon) offers a fully integrated range of services from risk identification and control to assessment and alternative risk financing. These capabilities include industry leading captive management services as well as property and casualty risk control and claims management solutions. We provide our clients with comprehensive and tailored solutions, through a consistent global approach.
Evolved Safety helps organizations experience a new and refreshing way to source occupational health and safety training materials. With access to multiple training resources from today's top vendors, they focus on finding the right products and services for the client.
Contact:
Greg Adams
(616) 295-1058
gadams@evolvedsafety.com
or
Deborah Weigand
(248) 936 5217
deborah.weigand@aon.com