The new record keeping rule, which takes effect January 1, 2017, requires employers to electronically submit injury and illness data, some of which will also be posted on the OSHA website.  This is information that workplaces are already collecting as required under the OSHA Recordkeeping rule but unless reviewed during an OSHA inspection the data was rarely seen outside of the organization or reported to OSHA.

The final rule also requires employers to inform employees of their right to report work-related injuries and illnesses free from retaliation; clarifies the existing implicit requirement that an employer's procedure for reporting work-related injuries and illnesses must be reasonable and not deter or discourage employees from reporting; and incorporates the existing statutory prohibition on retaliating against employees for reporting work-related injuries or illnesses. These provisions become effective August 10, 2016.
OSHA believes that public disclosure will encourage employers to improve workplace safety and provide valuable information to workers, job seekers, customers, researchers and the general public.  According to David Michaels, the assistant secretary of Labor for occupational safety and health, "Behavioral economics tells us that making injury information publicly available will "nudge" employers to focus on safety. And, as we have seen in many examples, more attention to safety will save the lives and limbs of many workers, and will ultimately help the employer's bottom line as well."  The amount of data submitted will vary depending on the size of company and type of industry.  Currently, there are no details on how the information will be presented online.
While regulators say transparency will help curb the number of workplace accidents and incidents, employer groups say it will reveal sensitive information that can be taken out of context and damage employers' brands with little benefit to safety. Randy Johnson, the U.S. Chamber of Commerce's senior vice president of labor, commented to the Wall Street Journal, "Instead of improving workplace safety, this will only create a new filing requirement that will lead to sensitive employer data being published without context or explanation." Mr. Johnson also said unions could use the data to mischaracterize employers in organizing campaigns, and trial lawyers could use it to bring frivolous lawsuits. The Associated Builders and Contractors trade group agrees. Greg Sizemore, ABC's vice president of health, safety, environment and workforce development offered, "OSHA will give competitors undue access to business processes that should remain confidential."(Wall Street Journal)
The new requirements will be phased in over two years:
250+ employees
2016 300A Form Due July 1, 2017
2017 300A, 300 and 301 Forms Due July 1, 2018
20-249 employees
2016 300A Form Due July 1, 2017
2017 300A Form Due July 1, 2018
Beginning in 2019 and every year thereafter, the information must be submitted by March 2.
Our onsite consulting services and recordkeeping training programs can make sure you are in line before the information goes online.  Let's talk about how we can help.
Visit us at ASSE Safety 2015 Booth #2057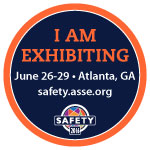 Sources: OSHA; Wall Street Journal