It's the hot topic of the workplace regulatory world.  It's the 'would be' cherry on top for an outgoing OSHA administration.  And, it's been on the docket since 2013.  It's the proposed Silica rule and it's very likely that this rule will be passed this year.  Here's a quick breakdown on the progress of the rule so far and what you might be able to expect.
Who – According to OSHA, about 2.2 million workers are exposed to respirable crystalline silica in their workplaces, the majority being in the construction industry. Exposure to silica occurs when workers cut grid, crush or drill silica-containing materials such as concrete, masonry, tile, and rock.  Worker exposure occurs in general industry operations such as brick, concrete, and pottery manufacturing, as well as operations using sand products, such as foundry work and hydraulic fracturing (fracking) of oil and gas wells. Workers are also exposed during sandblasting in general industry and maritime workplaces.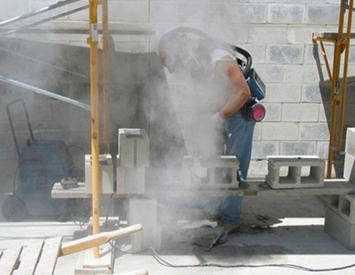 What – Crystalline silica is a mineral that occurs in several forms. Quartz, the most common form, is a component of sand, stone, rock, concrete, brick, block, and mortar. Many of these materials are used every day across a wide variety of industrial settings, including construction, mining, manufacturing, maritime, and agriculture.
Both industry and worker groups have recognized that a comprehensive standard for crystalline silica is needed to provide for exposure monitoring, medical surveillance, and worker training.
When – According to multiple sources, passing the silica rule is a top priority this year.  Most experts agree that this is the landmark regulation that the current OSHA administration would like to make before Obama leaves office.  Like most OSHA regulations, this has been a long time in the making with the original rule first proposed in 2013.  OSHA has stated in the past they expect to publish the rule early in 2016.  Here is the timeline on what's gone down so far:
8/2013 – OSHA announces proposed rule for silica exposure.
9/2013 – OSHA publishes proposed rulemaking in the Federal Register. The public will have until December 11, 2013 to make comments.  Hearings on the proposed rule will being March 4, 2014.
10/2013 – OSHA extends comment period to Jan 27, 2014. A live web chat is held on Jan 14th to provide the opportunity for the public to ask questions, get clarification from OSHA on the proposed silica rule and learn how to participate in the regulatory process.
2/2014 – In response to concerns raised about possible public confusion due to an error on www.regulations.gov, the federal government's online portal for submitting rulemaking comments, OSHA extends the comment period for a second time to Feb 11th. The hearings have been pushed back to March 18th.
3/2014 – Public hearings for the proposed silica rule begin. OSHA received over 1,700 comments from the public on the proposed rule, and over 200 stakeholders provided testimony during public hearings.
12/2015 – Final draft of the rule sent to the Office of Management and Budget's Office of Information and Regulatory Affairs (OIRA) for review. The OIRA has 90 days to review the rule from this date, however, these dates are often extended.  OSHA hopes to publish the rule next month.
Why – Exposure to high levels of respirable crystalline silica causes acute or accelerated forms of silicosis that are ultimately fatal.  From 2009 to 2013 silicosis was identified on over 500 death certificates as an underlying or contributing cause of death, in addition, a number of cases probably go undetected. The International Agency for Research on Cancer has designated crystalline silica as carcinogenic to humans, and the National Toxicology Program has concluded that respirable crystalline silica is a known human carcinogen. Exposure to crystalline silica has also been associated with an increased risk of developing tuberculosis and other nonmalignant respiratory diseases, as well as renal and autoimmune diseases. Exposure studies and OSHA enforcement data indicate that some workers continue to be exposed to levels of crystalline silica far in excess of current exposure limits.
There have been no details released on what exact changes to the rule were made prior to submitting to the OIRA.  We can expect an overhaul to the PELs, as the current PEL for general industry is based on a formula proposed by the American Conference of Governmental Industrial Hygienists (ACGIH) in 1968.  There will also be updates to the PELs for construction and maritime industries.  In addition to requirements for respiratory protection, the original rule proposed control methods such as a wet method for hand-operated grinding and a dust collection and control system.  There will also be requirements set for training, labeling, monitoring, medical testing, and other information-gathering and information transmittal provisions.
Sources:
https://www.federalregister.gov/articles/2013/09/12/2013-20997/occupational-exposure-to-respirable-crystalline-silica#h-25
https://www.osha.gov/silica/index.html
https://www.reginfo.gov/public/do/eAgendaViewRule?pubId=201510&RIN=1218-AB70