The OSHA General Duty clause states that each employer shall furnish to each of his employees employment and a place of employment which are free from recognized hazards that are causing or are likely to cause death or serious physical harm to his employees; and shall comply with occupational safety and health standards promulgated under this Act.  Each employee shall comply with occupational safety and health standards and all rules, regulations, and orders issued pursuant to this Act which are applicable to his own actions and conduct. (OSHA)
Does the General Duty Clause give OSHA a carte blanche means to cite a company on any hazard that exists in the workplace?  The Occupational Safety and Health Review Commission recently requested a briefing on the use of the general duty clause in a case that involves the murder of a health-care worker who was stabbed to death by a potential client outside of the client's home.  OSHA cited Integra Health Management Inc. for a serious violation of the general duty clause by exposing the employee to "the hazard of being physically assaulted by members with a history of violent behavior".  Integra argues that the judge's conclusion that people "with a history of violent behavior" should be screened out "raises numerous questions of line-drawing that render such a standard wholly unworkable."  The judge didn't explain what type of client conduct would qualify as sufficiently severe to prompt an employer to withhold services or how far back and employer must look when investigating criminal history.  (Bloomberg BNA)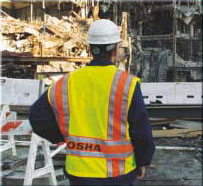 In 2014, OSHA issued Fiberdome Inc. a general duty clause citation for exposing an employee to over the industry agreed-upon level of styrene, a chemical used in plastics manufacturing, even though the exposure level did not violate OSHA's permissible exposure levels. (OSHA)
In regards to ergonomics, where there is no OSHA standard, OSHA states on their website "Even if there are no guidelines specific to your industry, as an employer you still have an obligation under the General Duty Clause, Section 5(a)(1) to keep your workplace free from recognized serious hazards, including ergonomic hazards. OSHA will cite for ergonomic hazards under the General Duty Clause or issue ergonomic hazard letters where appropriate as part of its overall enforcement program." (OSHA)
On one hand, this is a reminder to all employers that OSHA can cite you at any time for failing to provide a hazard-free environment for workers, even when there is no OSHA standard or regulation in place.  After all, rule number one is keeping employees safe on the job.  However, some disagree and believe OSHA is overreaching their boundaries.  "Over the last decade, OSHA has liberally used the general duty clause to act as a super-control over employers," states Valerie Butera, a member of Epstein Becker & Green in Washington, as told to Bloomberg BNA.  "You can't predict or prevent all hazards, but, as an employer, you are never quite sure what will result in a citation after an investigation."  Jeffrey Tanenbaum, a partner with Nixon Peabody, agrees.  "The way that the [general duty] clause is written, it serves as a basic safety floor for employers and employees.  Although employers need to keep their workplaces free of recognizable hazards that they can feasibly abate, as the clause is being used right now, employers are being asked to make 100 percent certain that the workplace is completely free of all hazards.  That is just not possible." (Bloomberg BNA)
For Integra Healthcare, or any employer that is dealing with a workplace violence situation, the issue is very gray.  A few weeks ago we blogged on the subject of workplace violence in regards to employer rights and requirements and the general duty clause.  Unfortunately, it leaves a lot up to the employer to interpret on their own.  It is the same with any instance where there isn't an explicit standard, leaving the employer with the responsibility to determine the level to which they need to remediate the hazard through training, policy changes, or engineering controls.  It is more than likely not possible to remove every hazard from the workplace, but as an employer, showing your dedication to safety through training and other means, following all industry standards and guidelines, and creating as safe a working environment as possible is paramount to keeping workers safe and preventing OSHA citations and fines.
Mathew Shudtz, the executive director of the Center for Progressive Reform states in regards to the Integra case, "Using the general duty clause sends a message across many industries that employers have a responsibility to keep their workers safe from all threats – not just the basic slips, trips, and falls."
Do you feel the general duty clause gives OSHA too much rope or do you feel does its job to protect employees?
Take a proactive step with hazard awareness and prevention training.  Evolved Safety has you covered for OSHA, DOT, EPA, and MSHA training – compliance and beyond.  Contact Us today to learn more about our innovative way of partnering you with best in class training from today's top providers.
Source: 
Occupational Safety & Health Reporter, Bloomberg BNA, News Archive 2015, Special Report – General Duty Clause: OSHRC to Review Use of General Duty Clause, Matthew Loughran