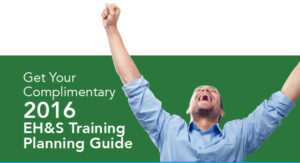 >> Download your free EH&S Training Planning Guide.
The EH&S Training Planning Guide helps anyone who is responsible for EH&S training review their current training program and plan for the future. The guide includes tips on identifying your goals and objectives and determining the amount of training, the training format, and the training topics you need to meet your goals for the upcoming year. The guide contains a chart you can use to organize and communicate your plan to your peers and management. If you are new to creating a safety training plan, the guide also offers information on conducting a job safety analysis and meeting annual training requirements for OSHA, DOT, and EPA regulations.
Have you started thinking about your goals and objectives for your next training plan? What would you like to change or what do you plan on keeping the same?
>> Download your free EH&S Training Planning Guide.
Evolved Safety works with you to select your EH&S training content and delivery options from a number of best-in-class safety training providers. We streamline the process for you, removing the burden of contacting multiple vendors and acquiring multiple bids. Let's talk about how we can help – give us a call, toll-free at 844.528.4486 or visit www.evolvedsafety.com today!